---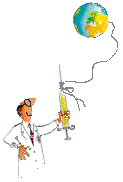 OVERVIEW ABOUT YOUR DONATION EVOLUTION This processing enables you to follow in real time the distribution of your gifts.

If you have chosen a relatively general level of attribution, the displayed grid may be bulky and the response time might be dragging.



The "documentation" enables you to reach the multi-media documents corresponding to a stage
(unfortunately almost absent in phase of test).




( If you didn't make any Donation, you can consult the folder of the donor number 1. Of course, in an actual context, you'd have to give a password !).